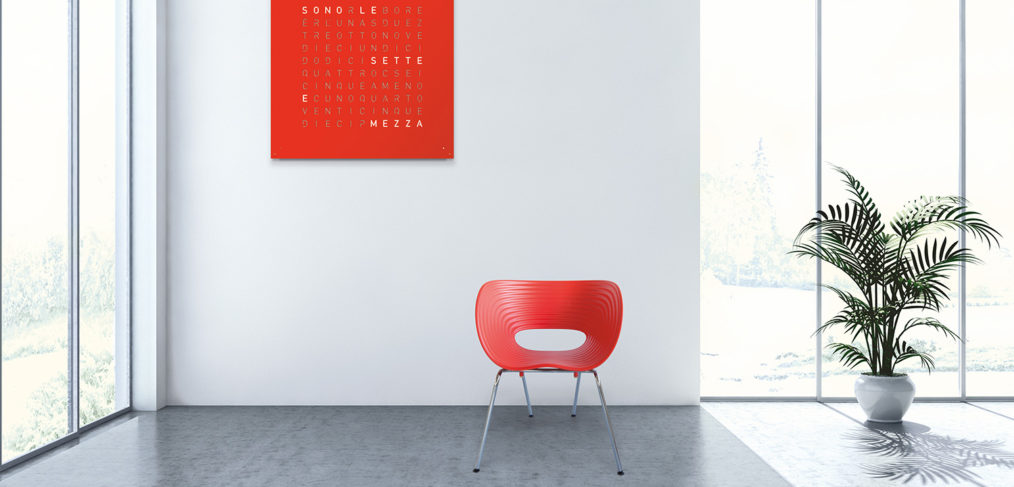 IL TEMPO IN UN DESIGN SENZA TEMPO. SENZA LANCETTE, SENZA NUMERI
QLOCKTWO consente di fermarsi un attimo e di avere una nuova visione del tempo. La veste tipografica unisce il momento alla parola scritta e ne fa una dichiarazione. Le parole cambiano a intervalli di cinque minuti e quattro puntini agli angoli mostrano i minuti esatti. La copertura anteriore è disponibile in vari colori, lingue e finiture, facilmente sostituibile grazie ad un sistema calamitato. QLOCKTWO ha un sensore di luminosità ambientale che regola l'intensità dei LED al variare della luce ambientale e si sincronizza automaticamente due volte al giorno. Vincitore di molteplici premi internazionali di design (reddot design award, iF product design award, Plus X Award, etc) QLOCKTWO è disponibile nelle varianti Classic, Large, Touch e Watch. Godetevi il tempo scritto con Latobliquo|Creative Inclinazioni e QLOCKTWO.
TIME IN A TIMELESS DESIGN. WITHOUT WATCH HANDS, WITHOUT NUMBERS
QLOCKTWO allows you to stop a moment and to have a new view of time. The typographic dress combines the time to written word and makes a statement. Words change at intervals of five minutes and four dots at the corners show the correct minutes. The front cover is available in various colors, languages and finishings, easily replaceable thanks to a magnetized system. QLOCKTWO has an ambient light sensor that adjusts the intensity of LED to changes ambient light and automatically synchronizes twice a day. Winner of several international design awards (reddot design award, iF product design award, Plus X Award, etc) QLOCKTWO is available in some variants Classic, Large, Touch and Watch. Enjoy time written with Latobliquo | Creative Inclinazioni and QLOCKTWO.